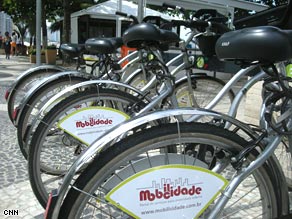 from CNN Eco Solutions
The concept of community bike-sharing involves an individual checking out a bicycle from one of several public locations (such as a docked station) and returning it at another location. The principle is to provide an alternative or complementary form of public transport to cover short journeys within city limits.
Think reduced carbon-dioxide pollution, smoother traffic flow and a healthier commute.
After all, 94 percent of Parisian bike-sharers can't be wrong.
Read more..